CMC 2800/3200
The CMC 2800 is the perfect film wrapping system for the 21stcentury. This innovative fully servo controlled system not only provides ultimate flexibility, but assures minimal set-up and changeover times, reduced maintenance through fewer moving parts, expandability through modular design; thus improving productivity and reducing cost of ownership. Servo driven shuttle feeder for rigid and thick products Sliding and pivoting Servo driven rotary vacuum drum feeder for the greatest feeding flexibility Optional first page opening devices for inserting products into main product.
Neue Versandanlage CMC 2800 – YouTube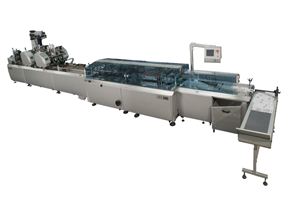 CMC 2500
The CMC 2500 is not just flexible, but insures reduced make-ready times and increased productivity for wrapped products. Advanced controls and product tracking make the system suitable for the most complex "intelligent" jobs requiring reading, selection, matching, ink-jetting, postal sorting, etc. Reduced maintenance through use of servo technology and fewer parts reduce ownership costs. Modular design allows for future expansion. External film unwinder is standard, allowing larger diameter rolls to be used, allows for film stretching option to create "tighter" package and reduce film usage.